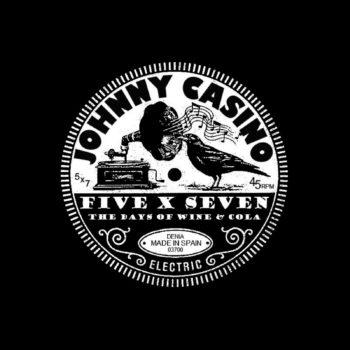 Johnny Casino

-

5×7 The Days Of Wine and Cola

33 en stock
Tracklisting
A1 – Another Girl
A2 – My Flash On You
---
B1 – The Sound Of Lies
B2 – Like Janis
---
C1 – Never Should Have Gambled
C2 – I'm Crying
---
D1 – I Still Don't Know
D2 – I Move Around
---
E1 – Straight Down The Line
E2 – Reverberation
Official release date: 1st March 2022 // Sortie officielle : 1er Mars 2022
JOHNNY CASINO – 5×7 ¨the days of wine and cola¨ singles boxset!
5 vinyl singles in a hand made hand stamped hand numbered and signed box that includes a CD containing all the tracks from the singles plus a bonus track and a handmade booklet
ONLY 200 AVAILABLE WORDWIDE!!!
Each single contains a new Johnny Casino original on the A side and Johnny´s version of some of his favorites on the B sides featuring covers of songs by Love, The Animals, Rodriguez, Lee Hazelwood and The 13th Floor Elevators.
The bonus song on the CD is a new original by Johnny.
Recorded and Mixed by Pepe at Estudio Tigruss, Spain
Produced by Johnny Casino and Pepe Tigruss
Mastered by Loki Lockwood at Creepy Hollow, Melbourne, Australia
Featuring,
Johnny Casino – Vocals/Guitars/Bass/Percussion
Isidro Rubio – Drums/Percussion
Julain Marco – Bass
Lucy Ellis – Backing vocals